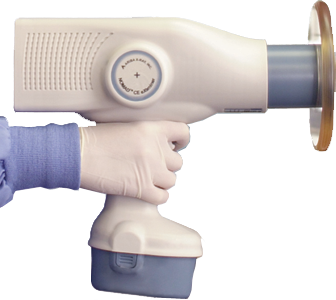 Successful Medical Device and Company Launch: Aribex Inc.
N2VATE founder Don Kloos was tapped by long-time work friend, Dr. Clark Turner, to join him as a founding executive and minor investor to launch his medical device company, Aribex, and his invention: a hand-held, battery operated, dental x-ray source for intra-oral dental radiography. This was challenging from technical, regulatory, and marketing perspectives and required strong crusading to finally gain approvals and successful market traction. The following is an account of the process and Kloos' activites and contributions:
Market Research and Validation:

Determined size and characteristics of the dental market, and surveyed dentists to understand objections and product appetite, among other parameters. Analyzed P&L that served as the basis for a pro forma for investors. Approached private investors and funding was successfully obtained.
Regulatory Compliance and Product Safety:
A hand-held x-ray product created special regulatory, safety, and performance issues which required persistent collaboration with state regulatory agencies, universities, industry associations and sales channels to finally gain acceptance. Was it safe and did it work as well or better than wall-mount x-rays? The FDA, state agencies, sales force, and end-users were educated and convinced through intense crusading. The FDA 510(k) approval was obtained in approximately only two weeks after submission.
Product Promotion
Named the product "NOMAD" with a tag line of 'Anytime…Anyplace' to promote the benefits of mobility, convenience, and cost efficiency. Created and pitched a comprehensive market plan and budget to the board including: tradeshow and promotion, a new website, collaterals, including printed and electronic materiel, promotional and training videos.


Branding
Further branding and traction for NOMAD and Aribex was accomplished by engaging key opinion leaders to validate the safety and efficacy of NOMAD. In a strange twist of events, NOMAD gained international acclaim when it was sent to the Asian Tsunami zone which allowed international forensic dental teams to identify 4000 victims.
Results:
Aribex NOMAD has been successfully branded into the dental industry, worldwide, with sales revenues in the millions and thousands of users. A second generation product was subsequently developed and has been released for sale.
Testimonial
"Don Kloos was instrumental in helping establish Aribex as a start-up in the dental market.  He did the market research to help us identify the market potential, and found the data regarding number of dentists and specialists that allowed us to prepare accurate pro forma estimates for our early investors.  Don established our product branding, messaging, and oversaw the creation of our website and other marketing materials.  He came up with our product name, NOMAD, which has been one of our most important trademarks!  Significantly, he identified the major distributors and was able to get introductions and meetings with the key decision makers that allowed us to gain access to the dental markets, both domestically and internationally.  He is a pleasure to work with, and injects a sense of humor with his strong work ethic, making a significant contribution to a start-up success."

Dr. Clark Turner, President, CEO, Founder of Aribex Inc.