N2VATE is involved in all aspects of the product life cycle from idea through market and exit.  Licensing a new technology is often a good option for an inventor, small company, or somebody who does not wish to engage in the commercialization process themselves for their new product or IP.
Likewise, licensing is a viable option for manufacturers and distributors to quickly and efficiently add to their product line and increase revenue, and is more and more the norm in the existing business climate for medical devices.  The expectations for remuneration vary greatly, depending on the viewpoint of the licensor or licensee, and hopefully will be the subject of some discussion on this page.  Product and IP available for acquisition and licensing are listed below. This is not an offer for the sale of securities.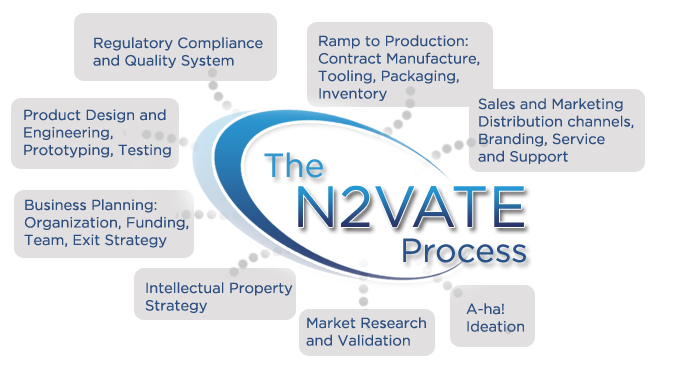 The Product Life Cycle
N2VATE PRESENTS NEW MEDICAL DEVICE FOR LICENSING: DIABETIC FOOT INSPECTION CONSOLE FOR HOME USE BY DIABETICS TO DETECT FOOT ULCERS
 Every year 70,000 of the 26,000,000 diabetics in the USA undergo lower limb amputation mostly as a result of foot ulcer complications. The cost for this is $7 billion per year and the suffering is untold. The APMA teaches that regular foot inspection and early treatment can prevent much of this loss. Millions of diabetics who need help examining the soles of their feet regularly could make use of this simple device and procedure right in their own home and help prevent this. This patented device is ready for commercialization and seeking a manufacturing partner for licensing and distribution.
 26,000,000 diabetics in USA
 6,000, 000 of these diabetics over 60 years old and obese – need help inspecting their feet
 1% adoption by these 6,000,000 equates to $6,000,000 in revenue
 For more information, please download the presentation and see the video on YouTube.
 YouTube Video Demonstration: http://youtu.be/Dtoz8KLykJQ
 Download Presentation:  New Medical Device Licensing Opportunity from N2VATE
Contact N2VATE at info@N2VATE.com