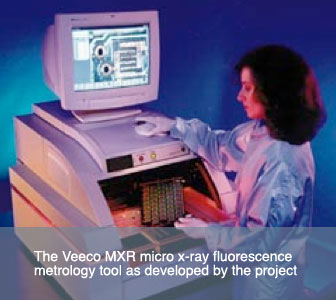 Background

While operating as a consultant for Veeco Instruments, a large read-write head customer in the data storage industry expressed a strong need for a thin film metrology solution that exceeded capabilities of all existing metrology tools. Recognizing the strategic opportunity to develop new business, applied knowledge and experience of x-ray and x-ray fluorescence technology to formulate a new micro x-ray fluorescence technique involving new x-ray focusing polycapillary optics, x-ray detector, and analytical software.

Key Accomplishments and Attributes

Proposed the new configuration and guided Veeco, their data storage manufacture customer, and component vendors towards this new solution. Provided and supported a temporary stop-gap solution for the customer while the new technology was being developed. The venture was successfully completed resulting in a new micro x-ray fluorescence technique and a high-end capital scientific instrument product line for Veeco, who sold dozens of the instruments to the manufacturer. The new technology was spun off and acquired by Thermo Scientific, one of the largest scientific instrument providers in the world.








Testimonial
"Don Kloos aided the birth of the analytical technique micro x-ray fluorescence. Made possible by the development of practical x-ray optics, Veeco Instruments NY was trying to move from supplying low-end general purpose XRF instruments at ~$30k, to providing the first of the modern breed of optic-enhanced µXRF instruments. As a consultant Mr. Kloos identified the first commercial niche application, manufacturers of disk drive read/write heads. He assisted both the customers and Veeco to understand the benefits and necessary product specs. This was also critical for XOS, as the supplier of the enabling x-ray optics. The result was a strong product launch and market penetration worldwide for Veeco at a price point of $130k, providing much better margins.  This led to the acquisition of the Veeco division by Thermo Scientific, the industry leader in scientific instruments."

David Gibson, President and CEO, X-Ray Optical Systems, Inc.